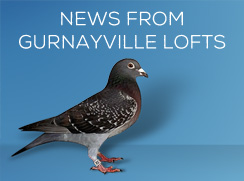 Adelaide Pigeon Club 2018 – This year saw me enter 4 birds in the APC for the first time. Brian and his team run a great series with plenty of interest Australia wide. After plenty of road work the first race was held on the 23rd of June from HAWKER around 310km. I was happy to get my 4 back on the day running 51st, 62nd, 138th and 241st.
The second race was held yesterday, 14th July, from Parachilna around 390km and once again I got my 4 on the day running 16th, 55th, 58th and 134th. I was very happy to get in the prize money with the 16th placed bird being a son of Dark Knight ,Frank Shreader Soontjen, when mated to a Soontjen hen of the Alan Brown imported lines.
It's great having all 4 birds still in the race with hopefully more good results to come.
The breeding of the other 3 birds are Evans Vandenabeele X Huybregt , Ron Williamson X Hereman/Cleusters and Ron Williamson X Soontjen.
https://gurnayville.com.au/wp-content/uploads/2015/01/News3.jpg
181
244
Gurnayville Lofts
http://gurnayville.com.au/wp-content/uploads/2015/01/Gurnayville-Lofts-Logo-300x138.png
Gurnayville Lofts
2018-07-15 22:11:07
2018-07-15 22:23:11
Update July 2018