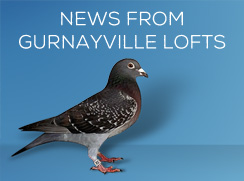 Barcelona International One Loft race – This is a very interesting 3 year concept race that I decided to support this year by flying 8 birds bred by Tony Byrne from Endurance Pigeons based in the UK. Tony runs this one loft race and has some great long distance families. After the lead up tossing I had 5 of the 8 birds left. I activated the 5 and in the final race for the year on Saturday they achieved the following positions
– Gurnayville Forster 16th
– Gurnayville Albury 40th
– Gurnayville Hurricane 65th
– Gurnayville Lockhart 72nd
– Gurnayville Spitfire 233rd
This means I will have 5 birds competing in the second year of racing in 2021.
The final race for the second year will be around 400 miles before the big third year race from Barcelona around 795 miles.
If anyone would like more information on this OLR please contact me.
https://gurnayville.com.au/wp-content/uploads/2015/01/News3.jpg
181
244
Gurnayville Lofts
http://gurnayville.com.au/wp-content/uploads/2015/01/Gurnayville-Lofts-Logo-300x138.png
Gurnayville Lofts
2020-10-28 20:51:12
2020-10-28 20:51:12
October 2020