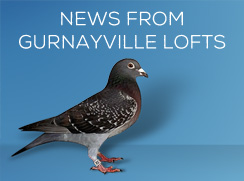 2021 was another challenging year for all of us with Covid once again impacting on both our personal lives and pretty much stopping pigeon racing around Australia other than some one loft races making it to the end.
For Gurnayville lofts it meant not be able to complete some orders for both race teams and stock birds. Sydney and Melbourne were fine due to me being able to send birds by truck but interstate deliveries suffered due to either no flights or no transhipping between flights. To those whose orders I couldn't supply I apologise and hopefully this will become easier this current breeding season.
Once again we had some great results from limited racing and these can be seen on my results page.
The highlight of the year was successfully purchasing a direct pair of birds from Bart Geerinckx at the Australian PIPA sale. I crossed these two birds initially and have some progeny in two One Loft races this year. They have come though the breeding season in fantastic shape and it's a credit to Vince Pedavoli for his care of them between landing in Australia and being sold.
This year I have entered two One Loft Races for the first time being the Blue Hills OLR in Sydney and the Meadow OLR in Melbourne. I sent 6 to Sydney and 10 to Melbourne and at the time of writing all 16 still remain.
After 2 hard years of flying in the Barcelona International One Loft Race I still have 1 bird out of my initial 8 left that will hopefully be flying in this years Barcelona International race. The initial intake is down to 67 birds so my fingers are crossed for a good result in the OLR and maybe an International prize to boot.
Hopefully QANTAS can get its act together soon and start transhipping birds so I can get more ordered stock birds away.
https://gurnayville.com.au/wp-content/uploads/2015/01/News3.jpg
181
244
Gurnayville Lofts
http://gurnayville.com.au/wp-content/uploads/2015/01/Gurnayville-Lofts-Logo-300x138.png
Gurnayville Lofts
2022-03-31 14:20:02
2022-03-31 21:10:21
Gurnayville Lofts 2022 Update