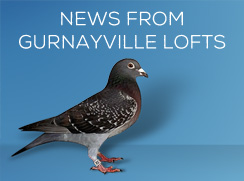 One Loft Races – After the first 2 races I still had 3 of my 4 entries left. They achieved 8th , 83rd and 113th position so it was nice to get a good result with them all home.
Unfortunately some time between  the last 75km toss on the 23rd July and basketing night for race 3 one of my entries has disappeared from the loft so i will have the nest pair of Rauw/Sablon X Soontjens representing Gurnayville lofts in Race 3 this Saturday.
Further to my last report about entering birds in an International One Loft Race i have entered 8 birds in the Barcelona International One Loft Race based in the UK. The loft is based in Norfolk England.  Its an interesting concept potentially ending in 3 years time with your birds competing in the International Barcelona race.
Race Teams – With limited racing this year I'm  very happy with the race results of race team birds sent out last year. Once again i will be selling a limited number of 10 bird race teams for the same price of $400 for 10 birds. I'm receiving orders already so if your interested please contact me.
Lets hope 2021 will be a much better year than 2020, good luck to those lucky enough to be flying and stay safe and healthy.